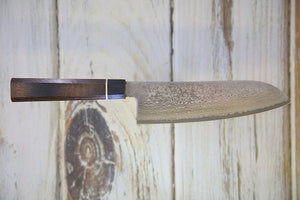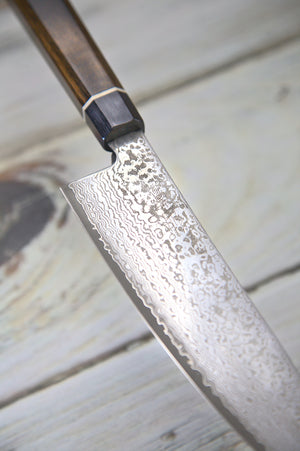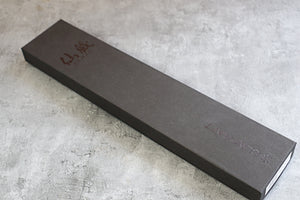 This multi purpose fatty will provide a perfect platform for chopping and transferring food. 
This is the knife is the perfect Shane Warne aka "spinner". 
What can it be utilised for:
The Santoku is great multi-purpose knife. Whilst smaller than a traditional chef's knife, the santoku is utilised for chopping and transferring food. It features a short but wide blade.
Benefits:
Besides you looking amazing with your Black Damascus knife, the versatility of the blade style allows you to devour just about any prep required in the kitchen. This suits those who are after a slightly smaller knife, whilst retaining the ability to conduct most kitchen chopping duties.
Why a Japanese knife:
Japanese craftsmen have been making steel based blades for centuries and this artesian skill has built them an undeniable reputation for making some of the best knives available. In addition, the lighter construction compared to a traditional Western-style knife allows for less fatigue when slicing up a metric tonne of onions! 
A true Japanese made and crafted knife. 
---
History and info
DAMASCUS VG-10 (ALL OF OUR
 

SUNCRAFT

 

BLACK AND UNIVERSAL RANGE)

VG-10 is a cutlery grade stainless steel produced in Japan. The name stands for V Gold 10 ("gold" meaning quality), or sometimes V-Kin-10 (V金10号) (kin means "gold" in Japanese). It is a stainless steel with a high carbon content containing:
Moderate/Low Hardness, up to 60-61 HRC

Carbon: 0.95 – 1.15 %

Chromium: 14.50 – 15.5 %

Cobalt: 1.30 – 1.50 %

Manganese: 0.50 %

Molybdenum: 0.90 – 1.20 %

Phosphorus: 0.03 %

Vanadium: 0.10-0.3 %
33 layers Damascus stainless steel
So-called Damascus steel is multi-layered of microthin stainless steel. 25% of components at the center of layers are called a core steel. Damascus steel used for this SENZO series has VG-10 stainless steel as a core steel which is produced only in Japan. The other 75% of components are two different hardness steel layers. The both sides of core steel are compressed with alternately soft steel and hard steel. This makes the blade look like wave patterns by special procedures.

VG-10 stainless steel for core
VG-10 Damascus steel has been acknowledged widely in the world as the best steel for kitchen knife and a lot of chefs appreciate its performance, longer sharpness as well as its beautiful design. VG-10 is relatively harder material, HRC (a scale of hardness of steel) is about HRC60. This makes steel sharpness last longer due to its abrasion resistance.
The HRC is a hardness scale based on the hardness of a material. Typically HRC of 60+ is seen to be a quality hard steel that retains its edge over a prolonged time.
ORIGIN OF SUNCRAFT KNIVES
Suncraft is situated in Japan within the Seki region, Gifu prefecture and is renowned for its 800-year-old tradition of high quality knife and blade manufacture. Suncraft has been designing and crafting kitchen knives for over 60 years, which ensures each of the 30 plus steps in making a Suncraft knife is of the utmost quality. 
The Finer Details
| | |
| --- | --- |
| Style: | Santoku |
| Blade Length: | 167 mm |
| Weight: | 148 gms |
| Blade Material: | VG10 Black Damascus |
| Handle Material: | Pakkawood w/white spacer |
| HRC: | 61 |
| Model: | Senzo Black BD-04 |
Partner In Crime

If you want to keep your new family heirloom as sharp as Einstein in his hay day, a dual grit whetstone will keep you out of trouble. CLICKY FOR WHETSTONE
Shipping and Returns
Shipping Information 
Shipping rates are calculated with dimensions of individual products and if buying multiple items, you will pay a capped postage price as long as the total weight doesn't exceed 5kg.
Delivery Times
Whilst we are flat out like a lizard drinking, we are extremely responsive and will have your precious cargo sent with Australia Post or courier for our domestic and international customers. Our target is to have your order packed and ready for shipment within a business day. 
International 
All of our products are available to our international customers except the Suncraft range. Please be aware that there is a possibility of customs duty for your country and it is your responsibility to settle any fees. We will do our very best to advise you if this will apply to your order. 
Returns
Returns will be accepted for inspection & exchange with authorisation. If you need to return an item, please contact Customer Service at info@aussieq.com.au within 7 days of purchase. Please include your order number and reason for return. We will respond with instructions on how to proceed.