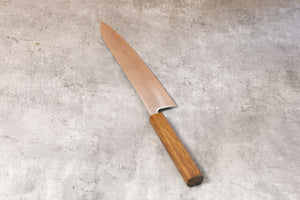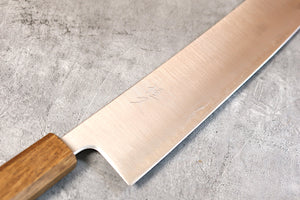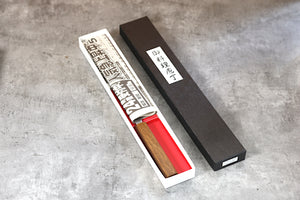 A 240mm length blade is perfect for slicing large cuts!

  
A Gyuto is a type of Japanese kitchen knife that is similar to the Western chef's knife, serving as an all-purpose tool in the kitchen, suitable for a wide range of tasks. Keep in mind like all high carbon knives they must be dried immediately and oiled after being in contact with moisture.
Tsunehisa knives are crafted with the goal of providing high-quality blades at an affordable price. The brand uses machine-forging techniques to create a consistent and dependable product, while the knives are finished by a team of skilled artisans for a handmade touch. The brand is committed to bringing the best of Japanese knives to customers at an accessible price point.
In addition, it comes in a stunning black box wrapped in Japanese newspaper.
What can it be utilised for:
A Gyutou knife is like the Swiss Army knife of the kitchen, it's got all the tools you need to chop, dice and slice your way through any ingredient. It's perfect for slicing up your snags for a barbie, or for dicing up vegies for a classic Aussie "chop, chop" salad.
One of the key features of a Gyutou knife is its curved edge, similar to a Western chef's knife, this design allows for a smooth rocking motion when you're mincing or chopping herbs, and also comes in handy when you're trying to hack through a tough rump steak or chop down a giant pumpkin.
In addition to its heavy-duty capabilities, Gyutou is also great for precision tasks such as peeling and trimming, making it perfect for those tricky avocados. And it's also great for scooping and transferring chopped ingredients from the cutting board to the frying pan, it's a must-have for anyone who wants to cook a decent stir-fry.
All in all, a Gyuto is a bloody good tool to have in your kitchen arsenal, perfect for professional chefs, and home cooks alike.
Also great for as brisket knife due to its large 240mm blade length.
Benefits:
A perfect mid-entry point into the world of high carbon Japanese knives. The value driven price point allows you to experience the magic of Japanese knives without breaking the bank. 
Why a Japanese knife:
Japanese craftsmen have been making steel based blades for centuries and this artesian skill has built them an undeniable reputation for making some of the best knives available. In addition, the lighter construction compared to a traditional Western-style knife allows for less fatigue when slicing up a metric tonne of onions! 
A true Japanese made and crafted knife.   
History and info
BLUE STEEL - HIGH CARBON 
Blue Steel is a traditional, high-carbon steel made by Hitachi Metals in Japan. It is the favourite steel of many knife makers and chefs across the world for it's fantastic edge holding ability, toughness, and ease of sharpening. It contains few stainless elements, and as such will develop a patina, and may develop rust spots if left wet after use.

The HRC is a hardness scale based on the hardness of a material. Typically HRC of 60+ is seen to be a quality hard steel that retains its edge over a prolonged time.
HISTORY OF TSUNEHISA 
KNIVES
Tsunehisa is a brand that combines the skills of knife makers from various regions in Japan, including Sakai and Tosa. These regions are known for their expertise in particular types of steel, such as Tosa's Ginsan and Sakai's carbon steel. The Tsunehisa brand offers excellent quality at a reasonable price, with excellent craftsmanship and some of the finest knife-making steels available in Japan.
The Finer Details
| | |
| --- | --- |
| Style: | Gyuto |
| Blade Length: | 240 mm |
| Weight: | 179 gms |
| Blade Material: | Blue Super Core, Stainless Clad |
| Handle Material: | Octagon Dark Oak |
| HRC: | 63 |
| Model: | |
Partners In Crime
If you want to keep your new family heirloom as sharp as Einstein in his hay day, a dual grit whetstone will keep you out of trouble. CLICKY 
Shipping and Returns
Shipping Information 
Shipping rates are calculated with dimensions of individual products and if buying multiple items, you will pay a capped postage price as long as the total weight doesn't exceed 5kg.
Delivery Times
Whilst we are flat out like a lizard drinking, we are extremely responsive and will have your precious cargo sent with Australia Post or courier for our domestic and international customers. Our target is to have your order packed and ready for shipment within a business day. 
International 
All of our products are available to our international customers except the Suncraft range. Please be aware that there is a possibility of customs duty for your country and it is your responsibility to settle any fees. We will do our very best to advise you if this will apply to your order. 
Returns
Returns will be accepted for inspection & exchange with authorisation. If you need to return an item, please contact Customer Service at info@aussieq.com.au within 7 days of purchase. Please include your order number and reason for return. We will respond with instructions on how to proceed.