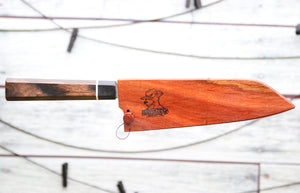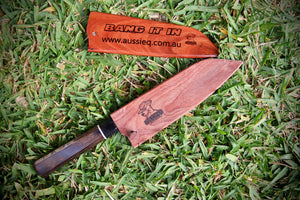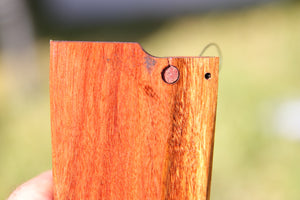 Take that stunning Bunka you just picked up, and make it ascend to god tier with a handmade wooden scabbard. 
Handmade by a local veteran from Australian hardwood.
**knife is purchased separately** 
What can it be utilised for:
This scabbard has been made by hand specifically for this knife. If you have a Bunka with the same dimensions you can certainly use it universally.
Benefits:
Besides the ridiculously good looks it has been crafted to be completely functional. Having a custom scabbard provides the highest amount of protection to your damascus blade. Just to add icing on the cake, it allows you to take your knife on the go for those times when you are having a roast at the in-laws, and you don't trust the father or mother-in law to slice it up.
Why a custom scabbard?:
Why not, is the real question. The detail, design and beauty speak for themselves. fusing the Japanese and Australian craftsmanship is a thing of beauty and really elevates your knife to the hero piece in your kitchen. Because the scabbard is hand made, every single one is unique, and no two will be the same. In addition, it makes a perfect gift for any special occasion or even spoiling yourself!
**you can choose the executive scabbard that comes lacquered and laser engraved with the AUSSIEQ BBQ logo, or choose the custom text option for an additional $10. If you choose the custom text option, please add your text in the comments with the order. Please be aware there is an additional 3 day turnaround for custom text**
---
The Finer Details
| | |
| --- | --- |
| Style: | Suits 165mm Bunka |
| Blade Length: | 165mm |
| Weight: | 99 gms |
| Material: | Australian Ironbark |
| Knife Security: | Handmade wooden key, that secures knife |
| Origin | Made in Australia |
| | |
Partner In Crime
The Suncraft Senzo Black Bunka slides into this scabbard like a hot knife through butter
Shipping and Returns
Shipping Information 
Shipping rates are calculated with dimensions of individual products and if buying multiple items, you will pay a capped postage price as long as the total weight doesn't exceed 5kg.
Delivery Times
Whilst we are flat out like a lizard drinking, we are extremely responsive and will have your precious cargo sent with Australia Post or courier for our domestic and international customers. Our target is to have your order packed and ready for shipment within a business day. 
International 
All of our products are available to our international customers except the Suncraft range. Please be aware that there is a possibility of customs duty for your country and it is your responsibility to settle any fees. We will do our very best to advise you if this will apply to your order. 
Returns
Returns will be accepted for inspection & exchange with authorisation. If you need to return an item, please contact Customer Service at info@aussieq.com.au within 7 days of purchase. Please include your order number and reason for return. We will respond with instructions on how to proceed.