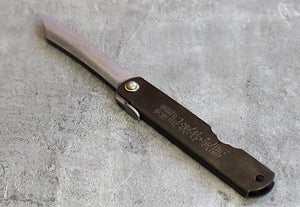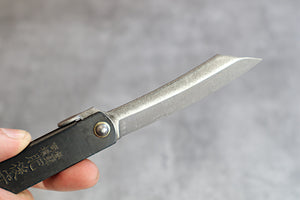 Already amazing knife, sturdy blade, comfortable handle, great size

.  
Having an inconspicuous utility knife that is perfect as an EDC. Keep in mind like all high carbon knives they must be dried immediately and oiled after being in contact with moisture.
The Higonokami Knife was named after the Kumamoto area, formerly known as Higo country, where many of the creator's customers were located. This helped increase sales significantly. The blade shape has evolved over time, originally being double-edged with a sharp, bamboo leaf-shaped tip, but now typically having a square shape. The sheaths for the knife were originally available in both a vertical folding style and a cross folding style, but the vertical style must now be custom made.
What can it be utilised for:
Higonokami knives are traditional utility knives that are typically used for a variety of tasks in the kitchen and workplace. They can also be used for other general purpose tasks, such as opening packages, cutting rope, or carving wood. They are compact and portable, making them a convenient tool to have on hand for various tasks. Moreover, it can be used in your EDC kit.
Benefits:
A perfect entry point into the world of high carbon Japanese knives. The value driven price point allows you to experience the magic of Japanese knives without breaking the bank. 
Why a Japanese knife:
Japanese craftsmen have been making steel based blades for centuries and this artesian skill has built them an undeniable reputation for making some of the best knives available. In addition, the lighter construction compared to a traditional Western-style knife allows for less fatigue when slicing up a metric tonne of onions! 
A true Japanese made and crafted knife.   
History and info
SK STEEL - HIGH CARBON 
SK (Special Steel) is a type of Japanese steel that is commonly used in the production of knives and other cutting tools. It is known for its high level of durability and corrosion resistance, as well as its ability to hold a sharp edge for a long time. SK steel is often used in the production of high-quality kitchen knives, hunting knives, and other types of edged tools. It is typically made through a process called powder metallurgy, which involves melting and blending the steel at high temperatures and then shaping it into the desired form using a mold. This process allows for the creation of a steel with a consistent, homogeneous microstructure and high levels of purity.

The HRC is a hardness scale based on the hardness of a material. Typically HRC of 60+ is seen to be a quality hard steel that retains its edge over a prolonged time.
HISTORY OF NAGAO HIGONIKAMI 
KNIVES
The Higonikami is a pocket knife with a blade and sheath that fold into a small handle called a "Chikiri (tail)" and was created in 1894 by Mr. Tasaburo Shigematsu, a hardware wholesaler, who was inspired by a knife he brought back from Kagoshima.
In 1911, the Higonikami gained further fame when it was displayed at the First Kobe Export Articles Competitive Exhibition and was purchased by Crown Prince (later Emperor Taisho). It is known for its low cost and traditional utility knife functions.
In 1899, the Higonokami Knife Union was formed with 40 member companies and over 200 workers in the industry.
However, due to the influx of low-quality imitations of Higonokami on the market, the Higonokami trademark was registered in 1910 and restricted to use by members of the Miki Knife Manufacturers Association. The industry faced challenges in the 1950s with the rise of utility knives and electric pencil sharpeners and the social campaign against knives. Many manufacturers either changed careers or went out of business, leaving Nagao Kanakoma Knife as the only manufacturer able to use the Higonokami trademark.
           (Fifth generation knife maker Mitsuo Nagao in the workshop)
The Finer Details
| | |
| --- | --- |
| Style: | Higonokami Pocket/Utility  |
| Blade Length: | 74 mm |
| Weight: | 53 gms |
| Blade Material: | Laminated SK Carbon Steel "Warikomi" |
| Handle Material: | Black Nickel |
| HRC: | 63 |
| Model: | Large |
Partners In Crime
If you want to keep your new family heirloom as sharp as Einstein in his hay day, a dual grit whetstone will keep you out of trouble. CLICKY 
Shipping and Returns
Shipping Information 
Shipping rates are calculated with dimensions of individual products and if buying multiple items, you will pay a capped postage price as long as the total weight doesn't exceed 5kg.
Delivery Times
Whilst we are flat out like a lizard drinking, we are extremely responsive and will have your precious cargo sent with Australia Post or courier for our domestic and international customers. Our target is to have your order packed and ready for shipment within a business day. 
International 
All of our products are available to our international customers except the Suncraft range. Please be aware that there is a possibility of customs duty for your country and it is your responsibility to settle any fees. We will do our very best to advise you if this will apply to your order. 
Returns
Returns will be accepted for inspection & exchange with authorisation. If you need to return an item, please contact Customer Service at info@aussieq.com.au within 7 days of purchase. Please include your order number and reason for return. We will respond with instructions on how to proceed.