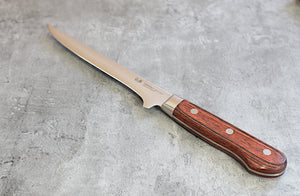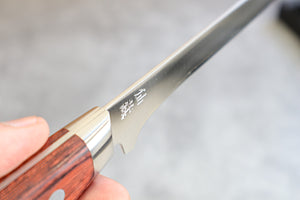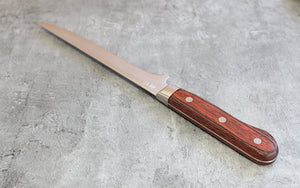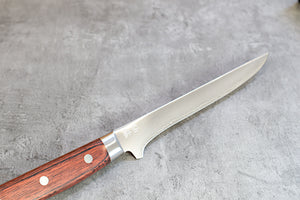 The Clad range blends both the European and Japanese style cues, with a distinctive full tang handle and the AUS10 blade. 
The boning knife is a perfect compliment to your arsenal. It is perfect for intricate work where you may need to trim or work around bone structures. A perfect example is trimming the skirt off a brisket ready for smoking. 
What can it be utilised for:
Are you tired of using dull knives that can't even debone a chicken? Say hello to your new best friend - the boning knife! This handy dandy tool is perfect for separating meat from bones like a boss. Plus, it's great for trimming fat and sinew from cuts of meat, so you can feel like a lean, mean, cooking machine. And don't worry, it's not just for deboning chicken (although it's definitely great for that). You can use it on beef, pork, and even fish. So go ahead and give your old, dull knives the boot and upgrade to a boning knife. Your taste buds (and your Instagram followers) will thank you.

Benefits:
As the Clad range utilises a full tang construction they are often more familiar to the everyday cook. For this reason, the Clad boning knife is a perfect addition to your arsenal. The value driven price point allows you to experience the magic of Japanese knives without breaking the bank. 
Why a Japanese knife:
Japanese craftsmen have been making steel based blades for centuries and this artesian skill has built them an undeniable reputation for making some of the best knives available. In addition, the lighter construction compared to a traditional Western-style knife allows for less fatigue when slicing up a metric tonne of onions! 
A true Japanese made and crafted knife.   
History and info
AUS10 WITH STAINLESS CLAD

3 layers Damascus stainless steel
So-called Damascus steel is multi-layered of microthin stainless steel. 25% of components at the center of layers are called a core steel. Damascus steel used for this CLAD series has AUS-10 stainless steel as a core steel. The other 75% of components are two different hardness steel layers. The both sides of core steel are compressed with alternately soft steel and hard steel. This makes the blade look like wave patterns by special procedures.

AUS-10 stainless steel for core
Stainless steel is a type of steel that contains chromium, which helps protect it from oxidation. This makes it resistant to corrosion from acidic foods and water. Stainless steel is usually considered to be any steel with a chromium content of 12% or higher. AUS10 is a type of stainless steel that is relatively easy to sharpen and low maintenance, but it may not retain its edge as well as harder steel knives like VG10. It is also less prone to chipping than harder steel knives. However, this is a trade-off for the benefits of its easier sharpening and lower maintenance.

The HRC is a hardness scale based on the hardness of a material. Typically HRC of 60+ is seen to be a quality hard steel that retains its edge over a prolonged time.
ORIGIN OF SUNCRAFT KNIVES
Suncraft is situated in Japan within the Seki region, Gifu prefecture and is renowned for its 800-year-old tradition of high quality knife and blade manufacture. Suncraft has been designing and crafting kitchen knives for over 60 years and ensure each of the 30 plus steps in making a Suncraft knife is of the utmost quality. 
The Finer Details
| | |
| --- | --- |
| Style: | Boning |
| Blade Length: | 165 mm |
| Weight: | 148 gms |
| Blade Material: | AUS10 w Stainless Clad |
| Handle Material: | Pakkawood w/stainless bolster |
| HRC: | 58-59 |
| Model: | Senzo Clad AS-07 |
Partner In Crime

If you want to keep your new family heirloom as sharp as Einstein in his hay day, a dual grit whetstone will keep you out of trouble. CLICKY FOR WHETSTONE
Shipping and Returns
Shipping Information 
Shipping rates are calculated with dimensions of individual products and if buying multiple items, you will pay a capped postage price as long as the total weight doesn't exceed 5kg.
Delivery Times
Whilst we are flat out like a lizard drinking, we are extremely responsive and will have your precious cargo sent with Australia Post or courier for our domestic and international customers. Our target is to have your order packed and ready for shipment within a business day. 
International 
All of our products are available to our international customers except the Suncraft range. Please be aware that there is a possibility of customs duty for your country and it is your responsibility to settle any fees. We will do our very best to advise you if this will apply to your order. 
Returns
Returns will be accepted for inspection & exchange with authorisation. If you need to return an item, please contact Customer Service at info@aussieq.com.au within 7 days of purchase. Please include your order number and reason for return. We will respond with instructions on how to proceed.