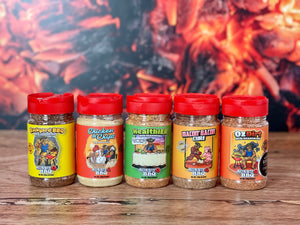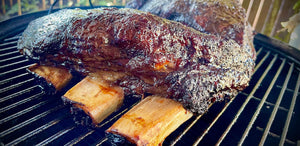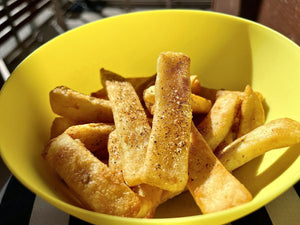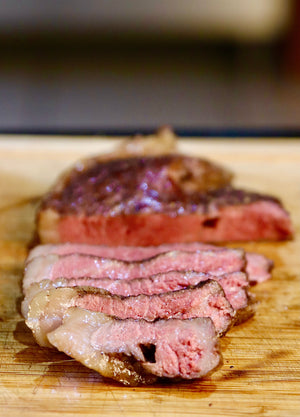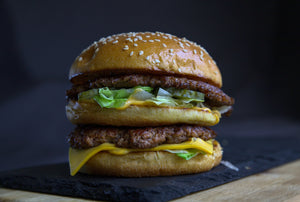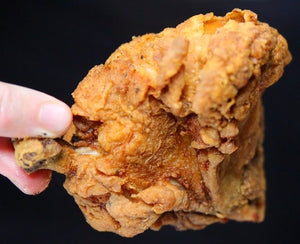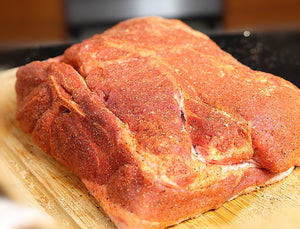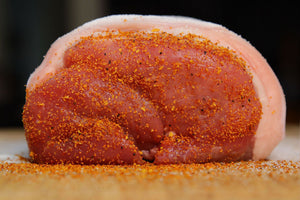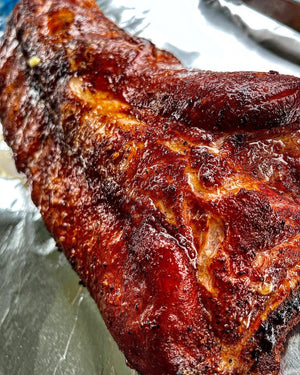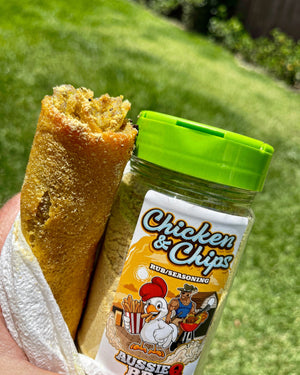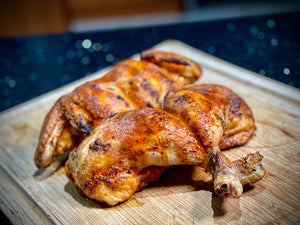 Just like our Four Banger Box, but you get the Chicken & Chips too. You will receive Backyard BBQ, HealthIER, Chicken & Chips, Macon' Bacon and Oz Dirt.
"PAT, DON'T RUB" 
 (save that for after the socials ;) 
No nasty stuff here!
No Fillers or anti-caking agents at all. All natural spices, peppers, herbs, salts and raw sugar.
What can they be utilised for:
Macon' Bacon Cure: was developed after many years of eating store purchased bacon and not being satisfied with the overall result. Drawing on all the flavours that make bacon special, which include: maple, salt, garlic, onion plus many more. Macon' Bacon Cure will transform the humble pork belly, beef navel or brisket into an artisan piece of bacon. 

Backyard BBQ: Will lift your red meat game into another stratosphere. The earthy, coffee and peppery overtones of flavour, with the faintest tickle of heat will have any red meat cut singing.
HealthIER: The lower sodium and sugar in this rub should not be underestimated. The key ingredients that was carefully woven into the flavour profile situate this healthier version as an all rounder. You will yield great results with everything from grilled corn to brisket. Give it a shot on your morning eggs too!
Oz Dirt: Will lift your white meat game into another galaxy. The subtle as a hammer flavour has been crafted with truly unique ingredients to make you think you are cooking barbecue inside of a fish and chip shop. We will leave it at that..
Chicken & Chips: This is beyond ridiculously great on every limb of the chicken! You can even sprinkle it on roasted potatoes, chips or just about any veggie! 
Why choose a small batch rub/seasoning:
The pure magic a good rub/seasoning can perform is not to be understated. Our family team at AussieQ BBQ have worked tirelessly over many months conducting research and development to produce four of the most impactful rubs on the planet. After hundreds of test cooks, we are confident that our rubs will have you eating it straight from the bottle! Lastly and most importantly we sent out samples to the community and with their feedback they helped produce our small batch rubs, which not many other companies can attest to. 
Competition Barbecue: 
Because we designed our rubs to have an impact with every bite, the Backyard BBQ, Oz Dirt and HealthIER work horses can compliment your next hand in. Backyard BBQ (brisket, beef ribs, beef cheeks, beef chuck, SCA steak and lamb), Oz Dirt (pork and chicken), HealthIER (specialty hand ins like seafood). Chicken & Chips is a clear winner on your chicken thighs or drummies. Even use it as a finishing dust on your SCA steak. 
---
The Finer Details
Flavour Profile:

Macon' Bacon Cure: Sweet, Salty, Bacony (yes that's now a word), smokey and a kiss of Maple Syrup.

Backyard BBQ: Earthy, salty coffee notes with a touch of sweet heat.

Oz Dirt: Bold, smoky paprika, with a touch of acidity and sweetness at the backend.

HealthIER: Cheesy, nutty, smokey and a kiss of peppery lemon.

Chicken & Chips: Cheesy, chickeny, salty with a faint herbaceous aftertaste. 

How to use:

Macon' Bacon Cure: The money saver and bacon maker is perfect on pork loin, pork belly and beef navel or brisket to make the most impactful bacon you have had.

Backyard BBQ: Primarily used on red meat such as steak, brisket, chuck beef, burgers, lamb, roast beef, beef ribs and beef shanks.

HealthIER: Absolute royalty on such things as seafood, vegetables, pork, eggs, turkey and chicken. 

Oz Dirt: This will seek out and destroy how good you thought white meat was. Perfectly paired with roast pork, pork ribs, pork belly, pulled pork, chicken, turkey and barramundi.

Chicken & Chips: As the title suggest it's amazeballs on all types of roast/BBQ chicken and some crispy chips. Don't be afraid to just eat it from the bottle!

Weight/QTY:
Varies between 195gm and 295gm per depending on the rub.
Ingredients:
Such things as maple sugar, kosher salt, coarse black pepper, hickory smoke, smoked paprika and raw sugar.
Storage:

Keep in a dry cool place away from humidity. Freshness seal will separate once screw top is removed. 

If clumping starts to occur due to humidity, break up seasoning with a fork, then place in the fridge.
Partner In crime
Whether you use this food magic in a bottle by itself or choose any of our other three rubs/seasonings, you won't be left flat footed during your next cook. CLICK FOR THE COLLECTION or maybe even a cheeky holographic Aussie the kanga sticker
Recipes
"Oz Dirt" and Parmesan Chicken Wings with Roasted Garlic Butter Sauce
"Oz Dirt" Hot Cross Bun Crispy Chicken Burger
"HealthIER" Pork Roast Crackle
"Backyard BBQ" Monster Tomahawk Steak
"Backyard BBQ" Brisket Burnt End Ravioli 
"Macon' Bacon" Halal Beef Bacon 
"Chicken & Chips" Roast Chicken and Pasta Salad
Handcrafted with no fillers
We are proud that each and every rub/seasoning is handcrafted and individually hand signed with the family member that blended and packed the bottle. In addition, we add a best before date on each bottle. You may wonder why is there is a best before date when most spices last 1-2 years. The reason is humidity. Because we don't add fillers or anti-caking agents, there is a possibility that humidity could cause some clumping. But that is ok. Simply give the bottle a shake before use and you are set. Don't forget to avoid seasoning your food with the bottle over the heat source as steam can enter the bottle and cause clumping.
Shipping and Returns
Shipping Information 
Shipping rates are calculated with dimensions of individual products and if buying multiple items, you will pay a capped postage price as long as the total weight doesn't exceed 5kg.
Delivery Times
Whilst we are flat out like a lizard drinking, we are extremely responsive and will have your precious cargo sent with Australia Post or courier for our domestic and international customers. Our target is to have your order packed and ready for shipment within a business day. 
International 
All of our products are available to our international customers except the Suncraft range. Please be aware that there is a possibility of customs duty for your country and it is your responsibility to settle any fees. We will do our very best to advise you if this will apply to your order. 
Returns
Returns will be accepted for inspection & exchange with authorisation. If you need to return an item, please contact Customer Service at info@aussieq.com.au within 7 days of purchase. Please include your order number and reason for return. We will respond with instructions on how to proceed.